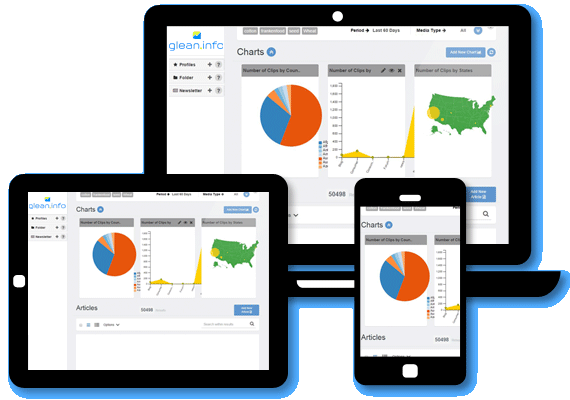 Many organizations have cut their PR budgets because of the Covid-19 economic disruptions. COVID-19 has devastated PR and marketing agencies and departments. The near shut-down of the travel and conference industries, the stock market collapse, and closures of hotels, bars, restaurants and other business has hit the economy hard. Even essential organizations having to stay open are suffering financial consequences.
We understand their predicament.
To help PR agencies and corporate communications departments through this difficult time, Glean.info is offering complimentary media monitoring and automated measurement service to eligible organizations for three months. The free service is available to up to 200 companies, government agencies and non-profit organizations that have suffered budget cuts because of the coronavirus pandemic.
This is our way to give back to the PR community as we all struggle with the health and economic problems caused by Covid-19. We want to help the PR community get through these difficult times without having to sacrifice vital media monitoring and measurement.
What the Complimentary Media Monitoring & Measurement Service Includes
The offer includes automated daily monitoring of 100,000+ online news sources, 10+ million blogs, closed-caption text of U.S. TV news, and Twitter. Participating organizations will receive media mentions in a daily email alert. Their clips will be delivered to their own Glean.info media measurement dashboard with automated analytics. Organizations may specify up to 10 keywords or search terms.
During the complimentary period, clients can have email alerts sent to multiple email addresses in their organization. Paid subscriptions can receive multiple, personalized email alerts per day. The alerting system even provides optional customized design with your organization's logo, color palette and design specifications.
After the first three months, organizations will have the option to subscribe to the Glean.info service at 25% off what they were paying their previous vendor.
About our Media Monitoring & Measurement
Glean.info by CyberAlert has provided media monitoring and measurement services since 1999 to thousands of PR departments and agencies. It was among the first online media monitoring services. The service monitors 100,000+ online news sources in 250+ languages in 191 countries and closed caption text of news programs on 1,000+ U.S. TV stations, 10+ million blogs, and 100,000 message boards, 200+ video sharing sites, Twitter, Facebook and other social media platforms.
Glean.info's easy-to-learn and easy-to-use online SaaS dashboard integrates news and social media coverage for each customer. Subscribers can also integrate Google Analytics and internal communications data into the dashboard for a 360-degree view of all the organization's earned and owned media and communications.
Glean.info can customize the monitoring measurement service to specific client needs and requirements. Clients can customize PR metrics and the measurement dashboard for different functions, departments, countries and managers.
Glean.info's expert human analysts provide additional thoughtful analysis and valuable insights.
Not eligible or ready for a complimentary service? Sign up for a free online demo. Learn how your organization can benefit from Glean.info's comprehensive media coverage and full-featured media measurement dashboard in a 30-minute free online demo.
William J. Comcowich founded and served as CEO of CyberAlert LLC, the predecessor of Glean.info. He is currently serving as Interim CEO and member of the Board of Directors. Glean.info provides customized media monitoring, media measurement and analytics solutions across all types of traditional and social media.