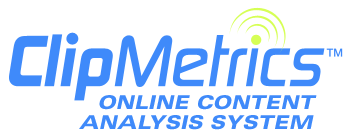 All the tools you need to:
Measure your media coverage
Demonstrate the success of
your communications program
and even
Benchmark your competitors
Audience Analysis — Data for Media Measurement, Evaluation and Analysis
Each clip you receive includes a uniform set of PR measurement data for both the Web site and the print edition of that Internet site.
For clients utilizing media analysis services such as Cymfony (www.cymfony.com), CyberAlert can deliver the clips and audience measurement data in XML files for automated processing by the analysis company's software.
The following PR Intelligence and media measurement data is included for both news clips and consumer discussion clips:
Web Rank: Web Rank is the rank of the site in numerical order of all Internet sites worldwide, based on a sample of millions of Web users who voluntarily have installed a special PR measurement toolbar attached to their Internet Explorer Web browser. The special PR measurement and audience evaluation toolbar aggregates data on sites visited while users browse the Web. The Web Rank takes into account both the number of visitors to a site (audience measurement data) and the average number of page views by each visitor while browsing the site (PR insight). The Web Rank is based on three months of aggregated traffic data and is updated monthly. The PR measurement and audience analysis system includes the rank of Web-based forums, message boards and discussion groups, but does not measure the rank of clips from Usenet News Groups.
News Rank: News Rank is the numerical rank of the Web site among the 55,000+ worldwide news sources monitored daily by CyberAlert. This rank is a good public relations measurement tool as it provides a good indicator of the relative importance of a news source among online news sources worldwide. For forums and message boards that are not part of a news source monitored by CyberAlert, the News Rank data field shows N/a.
Reach/Million: Reach per million measures the number of daily visitors to the Web site as a percentage of all Internet users. It is a measure of market penetration. A reach of 22% indicates that, for every one million Internet users, 255,000+ visit that particular site each day. For most news sources, the reach/million is based on the visitors to the main domain name (nytimes.com). For Internet portals like Yahoo, the reach/million is based on the number of visitors to the relevant news or discussion section of the main domain (news.yahoo.com, finance.yahoo.com, groups.yahoo.com). For blogs, reach/million measures the reach of the main domain (blogspot.com), not the individual blog (online-pr.blogspot.com).
National OTS (Opportunities to See): National OTS estimates the number of daily visitors to the Web site from the site's home country, based on the site's rank, page views, reach per million and total number of Internet users in that country. The media measurement figure does not include visits by users from other countries. For most news and consumer discussion sites on the Web, this figure is the closest possible equivalent to the base circulation figure of print publications.
Print Circulation: Print circulation provides the circulation figure of the print edition of the Internet site, if a print edition exists. For example, the data set for the Web site StLToday.com (St. Louis Today) will show the daily print circulation figure for the St. Louis Post-Dispatch. The print circulation for the U.S. is based on data from the Gebbie Press Media Directory (www.gebbieinc.com) and is used with the publisher's permission. Print circulation numbers for publications in other countries will be included in the near future. If there is no print edition, the data field will show N/a.
The new Glean.info PR measurement and audience measurement data are the best available based on a statistical sample of the Internet population. As statistical samples, the PR measurement data set may not be large enough to be accurate for sites with low levels of monthly traffic.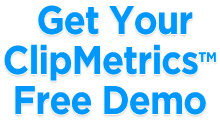 A Glean.info representative will contact you within 24 hours – and probably sooner.
ClipMetrics Key Benefits
Improved Insight
Gain greater insight into the results of your publicity campaigns. Better assess how, when and where publicity campaigns "moved the needle" on behalf of your company or its brands.
Detailed Management Reporting
Deliver clear, unambiguous and convincing charts and graphs to demonstrate success of communications campaigns to management.
Improved Media Relations
Gain greater understanding of strengths & weaknesses of your media relations program — and how to improve it. Better identify journalists' attitudes and which journalists are following which issues.
Better Understand Competitors' Programs
Benchmark how your media relations program stacks up against your competitors — and better counter their campaigns.
Better Target Future Publicity
With increased understanding of past efforts, better plan upcoming campaigns and adjust messages/media.
Time Savings
Save time in performing media monitoring and measurement with ClipMetrics automated tools.
Reduce Costs
Achieve substantial savings compared to other media measurement services. Substantially better and less expensive than doing media measurement yourself.
Secure Higher Budgets
Obtain increased budget allocations with clear evidence of success.