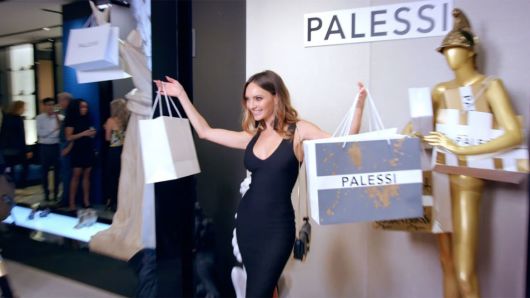 A Payless ShoeSource PR stunt offers priceless lessons about PR stunts, influencer marketing, brand image and consumer purchasing decisions.
Calling itself Palessi, the low-budget shoe retailer opened a fake luxury store in a former Armani store in Santa Monica, CA. Working with advertising agency DCX, company personnel filled the store with Roman statues and spray-painted sculptures to create a high-end appearance. They placed renamed Payless shoes in large individual glass shelves, and created a Palessi website and Instagram account to round out the prank.
How to Create a High-End Product
The company then invited fashion influencers and other fashionistas to attend a private launch party at the store, share some champagne and try the Palessi shoes. While the pop-up store got a remodeling, only the names and prices of the shoes changed. Shoes normally sold for about $20 to $40 at Payless stores were priced from $200 up to $640 a pair.
Payless captured the influencers on video praising the Palessi shoes while shelling out cash – about $3,000 in a few hours. Some of their comments included:
"Palessi is just such high-quality, high-fashion, it's taking your shoe game to the next level."
"Elegant, sophisticated and versatile"
"I could definitely wear this to the Met Gala dinner."
Soon the other shoe dropped, and Payless revealed the prank — to much surprise. "Shut up! Are you serious? Did I just pay too much?" one customer said.
Payless refunded the influencers' money and let them keep the shoes, proving the company does have a soul. However, it did use the footage for a commercial.
Payless PR Stunt Takeaways
The PR stunt reveals these lessons and insights.
PR can be a powerful strategy. Payless won extensive media coverage and demonstrated that their products can compete well with luxury brands. "The campaign plays off of the enormous discrepancy [in the fashion industry] and aims to remind consumers we are still a relevant place to shop for affordable fashion," Payless CMO Sara Couch told Adweek.
Image matters more than cost or product itself. A brand's image is an essential factor, perhaps an over-riding factor, in purchase decisions. Emotions felt during the shopping experience impact purchases. PR and marketing can drive purchases by creating the right shopping experience and brand image.
Influencers are not necessarily experts. Thousands of Instagram followers don't equal subject matter expertise. "Being an avid fan of something doesn't mean a person is knowledgeable," comments Inc. contributor Erik Sherman. "They might only have strayed into the Dunning-Kruger zone."
Influencer marketing lacks sufficient transparency. Some commenters praised Payless for duping influences who dishonestly praise products for payment. "The dark side of the influencer industry is that, while it is standard practice to compensate influencers to attend an event or to post about a product, too few acknowledge that some form of payment has changed hands," says Sarah Maisey at The National.
Payments influencers receive for attending company events probably help prompt their positive reviews. With too many online personalities passing off sponsored posts as personal endorsements, the sooner transparency is brought to bear, the better," Maisey adds.
On the flip side, duping and embarrassing fashion influencers may eventually create some pain  for Payless. Showing up influencers often does not end well.
Bottom Line: Payless ShoeSource showed how a discount retailer can use a PR stunt to go toe to toe against luxury brands. The prank also reveals the value of image in consumer purchase decisions. Other discount brands considering similar pranks should size the potential risks of mocking influencers.
William J. Comcowich founded and served as CEO of CyberAlert LLC, the predecessor of Glean.info. He is currently serving as Interim CEO and member of the Board of Directors. Glean.info provides customized media monitoring, media measurement and analytics solutions across all types of traditional and social media.