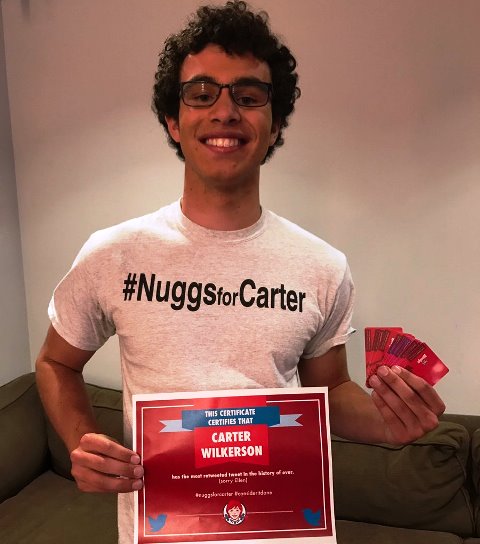 Public relations and social media pros can learn several lessons from a chicken nugget-loving teenager.
Carter Wilkerson, a 16-year-old high school junior in Reno, Nev., asked Wendy's: "Yo @Wendy's how many retweets for a year of free chicken nuggets?" Wendy's replied: 18 million, probably jokingly. The social media manager probably did not expect the huge response.  Wilkerson posted his question and Wendy's answer on his @carterjwm account. "Help me please. A man needs his nuggs," he pleaded.
Wilkerson's tweet went viral with the hashtag #nuggsforcarter. As retweet numbers skyrocketed, Wendy's offered to donate $100,000 to The Dave Thomas Foundation for Adoption, begun by and named for the chain's founder, if Wilkerson set a new retweet record of television host Ellen DeGeneres' selfie at the Oscars. He did, surpassing 3.4 million retweets. The fast-food restaurant still said the teen would receive a year's supply of free nuggets.
HELP ME PLEASE. A MAN NEEDS HIS NUGGS pic.twitter.com/4SrfHmEMo3

— Carter Wilkerson (@carterjwm) April 6, 2017
A Huge Public Relations Victory
It was a huge PR bonanza for Wendy's that went far beyond social media. Major media outlets, including DeGeneres herself, covered the teen's chicken nuggets pursuit.
What can PR and marketers learn from the episode of "the Nugget Kid?"
Monitoring online conversations is essential. Many companies, particularly fast-food restaurants, employ social media listening to boost their brands. Others ignore it, to their detriment. Pepsi could have seen the overwhelming negative comments on its inopportune Kendall Jenner advertisement and immediately pulled it. United could have noticed that videos of a passenger being dragged from one of its flights were spreading exponentially – and responded in a more timely and empathetic way.
Respond to customers. Wendy's could have ignored the teen's question. One man asked Taco Bell how many retweets he needed for free tacos for a year. Another asked President Trump how many retweets he'd need for a year of college tuition. Those questions have so far not been answered.
You can't predict what will go viral. Wilkerson had never had more than 10 retweets before. He told The New York Times he didn't expect to actually receive free chicken nuggets. "When some 140 characters run aground while seemingly equal tweets are hoisted to the heavens, anyone searching for meaning should expect a long, long voyage," the Times states.
Competition helps. DeGeneres asked her audience to retweet her famous Oscar tweet to preserve her record. She later had Wilkerson on her show as a guest and encouraged viewers who retweeted his tweet to also retweet her Oscar selfie.
Newsjack carefully. United Airlines attempted to piggyback on the story by offering Wilkerson a free flight if he reached 18 million retweets. It later offered a free flight for setting the record. The airline, still recovering from its recent PR crisis, received critical reactions on Twitter, with comments like: "Yo @United how many retweets to not get assaulted by you on my next flight?" Crisis management experts urge brands struggling to emerge from a PR crisis to be especially cautions on social media.
Bottom Line: A teenager who set the record for the most retweets can teach PR pros and marketers how to better promote their brands on social media – or at least how to win free Wendy's chicken nuggets. Wendy's handled his request brilliantly and the teen's retweets gave Wendy's a public relations windfall. The #nuggsforcarter episode clearly demonstrates the potential PR and marketing advantages of engaging customers appropriately on social media.
William J. Comcowich founded and served as CEO of CyberAlert LLC, the predecessor of Glean.info. He is currently serving as Interim CEO and member of the Board of Directors. Glean.info provides customized media monitoring, media measurement and analytics solutions across all types of traditional and social media.