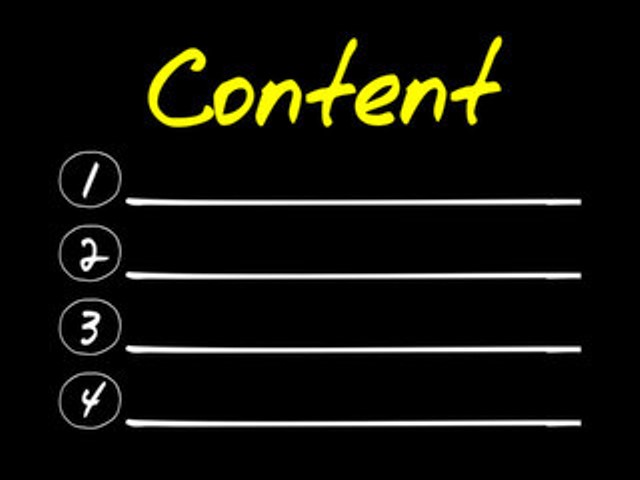 Some content marketers and readers have grown weary of listicles. Commentators have lambasted listicles as click bait, repetitive and shallow fluff. They've been blamed for ruining attention spans, destroying prose and oversimplifying complex issues.
Listicles, defined as "writing or other content presented wholly or partly in the form of a list," also still work well at communicating succinctly. They continue to draw readers, or at least skimmers, and often rank high in search results. They often attract links and increase web traffic.
Why Readers Love Listicles
Our brains seem inherently attracted to lists. Numbers in listicle headlines stand out in a sea of text search results. With their defined limit and structured organization, they're easily digestible. The format helps us absorb and retain information. Rather than being overwhelmed with complex, extensive information, we prefer to learn in bite-sized nuggets. They also appeal to our desire to categorize things.
The listicle "5 Clever Interview Questions to Uncover Candidates' Hidden Strengths" was shared 12,599 times last year, reveals Buzzsumo's research. "Although "Listicles" have had a bit of a bad rap for being cliché or overdone, the simple fact is people still read them like crazy," states Carmel Anderson at Buzzsumo. "So no matter how you feel about this content type, it may be a compelling format to add to your content strategy."
The poor reputation of listicles may be due to how writers typically create them rather than the format itself, writes Sean Callahan in the LinkedIn Marketing Solutions blog. "The hunger for list articles still exists, but as content marketers we should be aiming to be part of the solution, not the problem," Callahan argues.
How to Improve the Image of Listicles
Content marketing professionals recommend these practices to improve the quality and acceptance of listicles – and create list articles that increase website traffic.
Choose the right style. Listicles have different styles that are appropriate for different purposes and audiences. According BuzzFeed, those styles are:
Standard lists: The most basic format, a standard listicle uses captions and images with no overarching narrative. While shorter, they usually include many items. "For standard lists, word count is less important, but try to provide at least 15 items to keep reader attention and provide enough value to make an article worthwhile,"  says Meghan McKenzie, head of enterprise sales at Crowd Content.
Definitive list: These are longer, more in-depth, and provide more research and value. They tend to be linked by a common topic. There's not necessarily a cohesive story, but overarching themes connect list items.
Framework list: Framework lists offer a narrative, much like a story. These long, in-depth articles, with titles like "15 Truths You Learn in Your 20s," strive to prompt readers to ruminate about the topic afterwards.
Beware of long lists. After years of listicle click-bait, readers now correctly suspect the "101 Ways to …" post will probably offer little valuable information. Articles with fewer listed items but more depth, specific insights and research gain more engagement and respect.
Stick to your expertise. Researching subjects outside your bailiwick can consume an inordinate amount of time. Instead rely on your internal expertise as much as possible, while adding in enough outside context for credibility, Callahan advises.
Avoid click-bait headlines. A clickbait headline that pronounces an unrealistic claim or promises something that the article does not deliver annoys readers. Consider: "36 Inventions You Won't Believe Exist" or "13 Tips to Solve Any Problem for Good."
"As long as you stay away from making bold claims which are completely (or even mostly) impossible to meet, you should be fine," says Ben Mulholland at Process.St. "That is, as long as any claims you make are actually met within the body of the article."
Find a unique angle. Unique value will gain attention in the forest of listicles and encourage backlinks. They'll also entice more interest. Readers will assume an article called "65 Tricks for Keeping Your Home Clean" includes some tricks they already know, says Laura Adkins at CopyPress notes. But a listicle titled "15 Cleaning Tricks You Haven't Thought of Yet" encourages more clicks because it lets people know it's short and full of unique ideas.
To find unique angles, Mulholland suggests:
Write from personal experience
Use an interesting example/case study
Find obscure but useful statistics for a new insight
Collect information from multiple sources to provide a summary.
Watch your images. Images and gifs can spice up a listicle. But make sure they match the content. A joke won't work in an article on a serious topic. Too many images can slow page loading time, so limit listicles to three or four images or use thumbnails, Adkins advises.
Cite original research. Some articles provide information or statistics with a link to the source that's actually just another article (perhaps another listicle) that in turn links to the original research – or perhaps merely links to another article that repeats the information. Linking to the original research, not a hand-me-down source, improves credibility. At times, that requires additional searching online. If needed, follow citations until there are no more links to follow, try a site search of the source's site or enter the passage in Google.
Focus on a specific topic. Some listicles try to tackle too much. Readers will find "7 Tips for Eating Healthy" uninspiring. Volumes have been written on the subject, and the title doesn't make it clear that the article offers anything new, says Robert Jellison at Compose.ly.
But "7 Tips for Eating Healthy While Traveling" or "7 Unexpected Health Benefits of Drinking Oolong Tea" are specific enough to prompt more interest and won't face as much competition or skepticism.
Don't force all topics into listicles. First consider if the topic makes sense as a listicle. Only write a listicle if it can be broken down into several discrete points, Jellison warns. For instance, narrative pieces shouldn't generally be listicles.
Even if there isn't a list which naturally fits a given topic, you can create one by looking at the subject with a certain angle, says Mulholland at Process.st. He cites The 7 Stages of Grief  by Recover-from-Grief.com, an extension of the legendary work by Elizabeth Kubler Ross, and The Three Stages of Refining about oil refining.
Remember the conclusion. Listicles frequently have weak conclusions or no conclusions and end abruptly. To write an outstanding conclusion, wrap up the article in a single sentence or short paragraph.  Ask readers a question, add a call to action, or point to a useful resource for more information.
Bottom Line: Listicles have drawn well-founded criticism as shallow, click-bait posts. Renewed dedication to in-depth research and quality writing can boost the image of listicles and increase page views and website traffic.
Download the 2020 Ultimate Guide to Media Monitoring, Measurement & Analytics for PR & Marketing
This article was first published on March 19, 2019, and updated on March 13, 2020.
William J. Comcowich founded and served as CEO of CyberAlert LLC, the predecessor of Glean.info. He is currently serving as Interim CEO and member of the Board of Directors. Glean.info provides customized media monitoring, media measurement and analytics solutions across all types of traditional and social media.