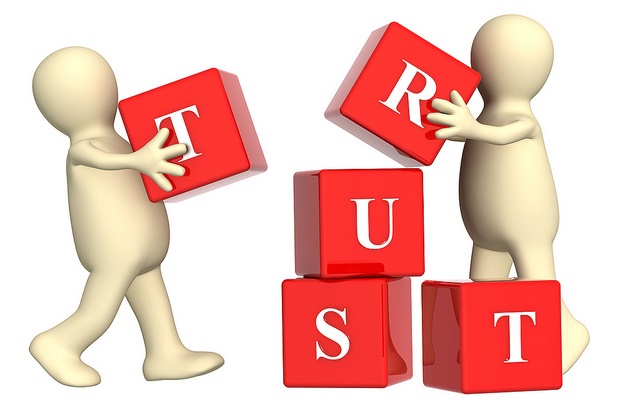 Brands are feeling the repercussions from the collapse of consumers' trust in social media. Consumers expect brands to pressure social media platforms to better safeguard personal data (71 percent), curb the spread of fake news (70 percent), and shield them from offensive content (68 percent), the just released 2018 Edelman Trust Barometer Special Report reveals.
"Consumers expect brands to have values, not just a value proposition," states Richard Edelman, the president and CEO of Edelman. "That means consumers are looking for brands to act to improve social media because the power of the advertiser exceeds that of the individual."
Only 30 percent of Americans and 41 percent of people worldwide say they trust social media. Fake news, privacy and data security violations have ignited consumer ire about data-based marketing techniques, including common practices such as loyalty programs.
Trust in Social Media Significantly Damaged
The special report shows that people's trust in social media has been damaged specifically by identity theft (71 percent), fake news (69 percent), cyberbullying and hate speech (69 percent). Only 40 percent of respondents trust social media platforms to effectively address fake news and hate speech, and a majority (60 percent) do not trust these platforms to behave responsibly with user data.
There are real risks if no action is taken. Four in 10 respondents claim to have deleted at least one social media account in the past year because they did not trust the platform to treat personal information properly, according to Edelman. Nearly two-thirds said that they want government to play a stronger role in regulating social media.
Close to half of the study's 9000 respondents see brands as complicit in other social media ills: 48 percent say it's a brand's own fault if its advertising appears next to hate speech, violent or sexually inappropriate content; and 47 percent believe that points of view that appear near a brand's advertising and marketing are an indication of that brand's values.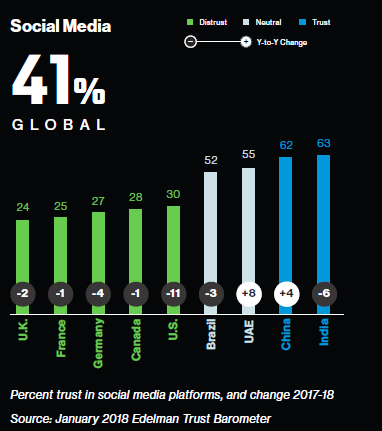 "Consumers are holding brands accountable, just like they do the platforms," said Kevin King, global chair of Edelman Digital. "But the price a marketer pays for a mistake can be far costlier, as it's easier for consumers to stop buying a brand of toothpaste or laundry detergent than it is to quit a favorite social media platform."
The company urges brands to:
Give consumers and better value for their data and clearer data policies. Consumers want privacy policies they can easily understand and clear benefits for sharing personal information.
Create credible, quality content for distribution on social media. Key factors for winning trust include quality of the writing or visuals, the author's credentials or expertise, and content that's well-designed and looks formal.
Use their leverage and purchase power to work with government, consumers, and social media platforms to drive change for the common good.
Organizations are beginning to address the issues Edelman cites, but not as swiftly as many consumers likely desire. The European Union's General Data Protection Regulation (GDPR) and Facebook's Cambridge Analytica scandal have prompted organizations to improve their privacy and data security policies.
Fake new reports will likely remain an intransigent problem. Despite greater awareness of fake news and efforts by Facebook and other social media networks to contain fake news, thousands of websites continue to produce fake news stores and promote their articles on social media.
Organizations and celebrities, who are often the subjects of fake news attacks, can now monitor those websites with a media monitoring service for fake news. The service sends an automated email alert to clients when a potentially image-damaging story in a fake news site mentions a client's name or other selected keywords. That information enables organizations, celebrities or their PR agents to take swift counter measures and promptly rebut fake news reports.
Bottom Line: Consumers hold brands partly responsible for current problems with social media and want companies to work to restore trust in social networks, new research shows. Specifically, consumers want organizations to collaborate to combat fake news, restrict hate speech and improve privacy policies. While organizations have made some progress in those areas, much more work remains to be done.
William J. Comcowich founded and served as CEO of CyberAlert LLC, the predecessor of Glean.info. He is currently serving as Interim CEO and member of the Board of Directors. Glean.info provides customized media monitoring, media measurement and analytics solutions across all types of traditional and social media.