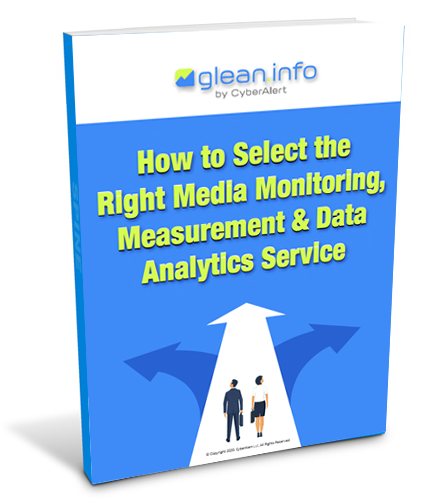 Glean.info, a PR services company based in Stratford, CT, has released a new ebook on How to Select the Right Media Monitoring, Measurement and Data Analytics Service. Public relations, marketing, and corporate communications professionals can find valuable guidance on reviewing vendors that provide the essential service.
PR and marketing agencies and corporate PR departments understand the critical importance of media monitoring and measurement. However, choosing the best media monitoring service for their specific organization can be challenging. Many organizations discover within weeks or a few months that the service they chose does not meet their needs.
Media monitoring and social media monitoring vendors abound. The types of media they monitor and their levels of service vary considerably. Some specialize in social media listening and ignore online news media, print, broadcast TV and radio. Some offer comprehensive monitoring but weak measurement or completely lack a PR analytics dashboard. Some package media monitoring with other PR services that clients may or may not want or need.
Selecting the wrong vendor can be costly both in terms of money and a lack of valid results to prove and improve the organization's communications effectiveness. Withdrawing the company from a relationship with a vendor can be difficult, especially if it involves the type of long-term contract required by many of the major media monitoring and measurement services.
The ebook covers topics such as:
The main questions to ask media monitoring and measurement vendors
How to judge the quality of media monitoring and measurement services
Essential features of media monitoring and measurement dashboards
Pros and cons of bundling media monitoring and measurement with a media database and news release distribution service
How to prepare a request for proposal (RFP) for media monitoring and analytics
A checklist to find a service that meets your organization's specific needs.
About Glean.info
Glean.info provides comprehensive media monitoring services that each day track new content from more than 100,000 online news sources worldwide, 25,000 print sources, U.S. TV and radio broadcasts, over 90 million blogs, and social media platforms, and message boards. The service is designed primarily for use in public relations, marketing, reputation management and competitive intelligence
The service includes an online dashboard that automatically reports a broad range of metrics and integrates analytics from all media and social networks, including the client's Google Analytics.
Glean.info creates customized media monitoring packages to fit clients' needs and budget, and utilizes well-trained and experienced media analysts who are experienced in multiple industries, including media and entertainment, pharmaceutical and medical, technology and consumer staples.
Founded in 1999 as CyberAlert, the company was among the first media monitoring companies to collect media mentions from online news sources and message boards.
William J. Comcowich founded and served as CEO of CyberAlert LLC, the predecessor of Glean.info. He is currently serving as Interim CEO and member of the Board of Directors. Glean.info provides customized media monitoring, media measurement and analytics solutions across all types of traditional and social media.