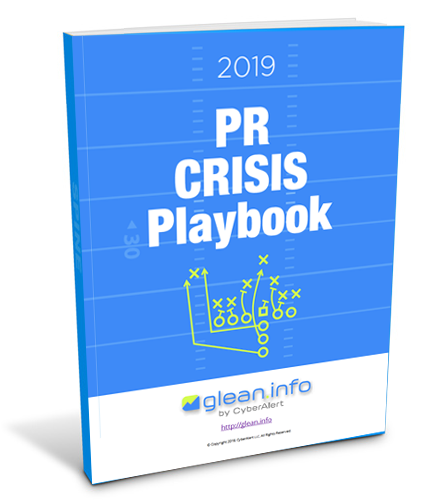 Glean.info, a media monitoring and measurement firm based in Stratford, CT, has released its 2019 PR Crisis Playbook for public relations, reputation management and crisis management professionals. The guide offers the latest insights on prevention and management of PR problems that can seriously damage corporate and brand reputation.
The 37-page guide and ebook with 14 articles is available as a free download on the company's website (https://glean.info).
PR crises are more common than ever. Regulatory fines, product recalls or failures, security breaches, fake news reports, misbehaving executives and viral social media attacks pose significant risks to corporate and brand reputation. Organizations that are unprepared can suffer disastrous consequences. Glean.info's updated guidebook explains how to decrease the chances of suffering a calamity, handle a PR crisis properly and confidently, and rebuild the organization's corporate reputation.
Some of the topics that the playbook covers include:
Why a new PR crisis playbook is needed for today's new media landscape. The accelerated pace of today's media environment and new attitudes of customers require a new – or at least revised – PR crisis playbook.
How to prepare a comprehensive crisis management plan. Preparing a plan to handle a calamity is just as vital as trying to avoid disasters. New research offers helpful insights on how brands can prepare for crises and deal with them when they inevitably occur.
An in-depth examination of how major brands, including Facebook, Tesla and Papa John's, responded to PR crises. In some cases, companies handled controversies well. In other cases, not so well.
The latest research and recommendations from leading crisis management experts on how to survive different types of crises.
How Nike's PR Crisis highlighted the value of surveys for employee relations. More corporations may consider employee surveys to improve their corporate culture, protect their reputations and head off a PR crisis
How to use social media monitoring and measurement and other tools to avoid crises and recover from public relations damage. Selecting the right keywords and metrics enables PR and the crisis management team to respond effectively and to learn how well their organization is weathering the storm of negative news and social media commentary.
About Glean.info
Previously known as CyberAlert, the company was founded almost 20 years ago by public relations veteran William J. Comcowich, who remains an advisor to the company. As one of the first media monitoring companies to focus on collecting media mentions from online news sources, it has served the media analytics needs of thousands of companies and not-for-profit organizations. Glean.info's online communications dashboard offers a fully-integrated analytics solution customized to meet each client's specific needs.
Download your copy of 2019 PR Crisis Handbook now!
William J. Comcowich founded and served as CEO of CyberAlert LLC, the predecessor of Glean.info. He is currently serving as Interim CEO and member of the Board of Directors. Glean.info provides customized media monitoring, media measurement and analytics solutions across all types of traditional and social media.