Everyone wants to create content that ranks high on Google's search results for specific keywords. By producing such content, you'll get more traffic to your site, and the more traffic you get, the more people will see the service or product you offer.
But how do you create content that ranks high in Google organic results? It's possible with the formula "SEO + writing = SEO writing." It's extremely important to be able to learn the technique and use it for all web content.
In this post, you'll find everything you should know about SEO (search engine optimization) writing.
SEO Writing – the Basics


Experience shows that almost nobody visits the second page of the search engine results page (SERP). People tend to spend their time exploring the results from Google's top 10. What's more important, the vast majority of Google users prefer to review the first three to five search results.
Other pages get few if any visitors from the search results.
If you know that some of your pages don't attract your target audience's attention, you need to revise their content. The best way to do this is with SEO writing techniques.
When you write SEO-optimized content, you'll attract traffic to your website along with potential leads. But it is not as simple as you think.
Writing SEO-optimized content requires you to write it yourself (knowing all the pitfalls of the process), or hire a writer through networking or an online job board who can do it for you.
Consider the progress of content creating on the Respona blog over the past couple years. As you can see, a team of content creators could boost organic traffic results from about 830 to 511,000 visits per month.

The most straightforward way to create SEO-optimized content is to understand what your target audience searches on Google: What they want to know about and what problems they want to solve. Your content should take into account all these nuances.
The question is how to write SEO optimized content? Let's run through three steps to succeed in SEO writing.
Three Steps to Succeed in SEO Writing
SEO writing is not super-hard, although you probably can't do it well right off the bat. By following these three steps, you'll be able to understand the process.
Focus on finding keywords that have traffic potential
First, explore content from your competitors and then read content from leading marketers from around the world. These steps will help you know how to present your business, identify what content to produce, and how to write about your business from the technical side of the question.
By reading niche-related content, you'll have an opportunity to explore seed keywords. These seed keywords will form the core of other additional keywords that you'll implement in your writings.
For example, if you are writing a blog post on building brand trust using an explainer video, your seed keyword phrase would be "explainer video." Your task is to explore other keyword phrases based on your seed keyword.
Different keyword explorer tools can help accomplish this. One is the Keywords Explorer tool from Ahrefs. Pay attention to these reports it generates:
The Questions report provides the questions that include your target keyword.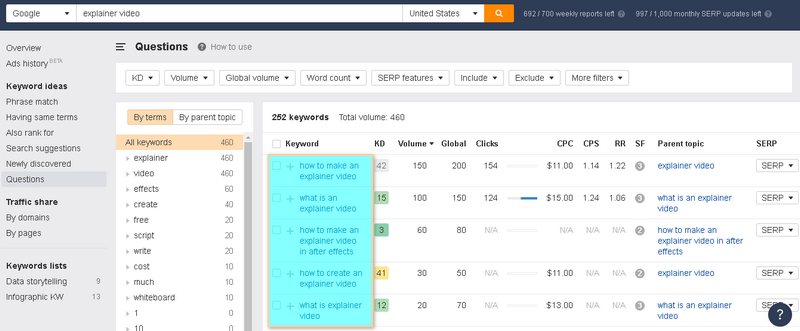 The Phrases report provides possible phrases that contain your seed keyword.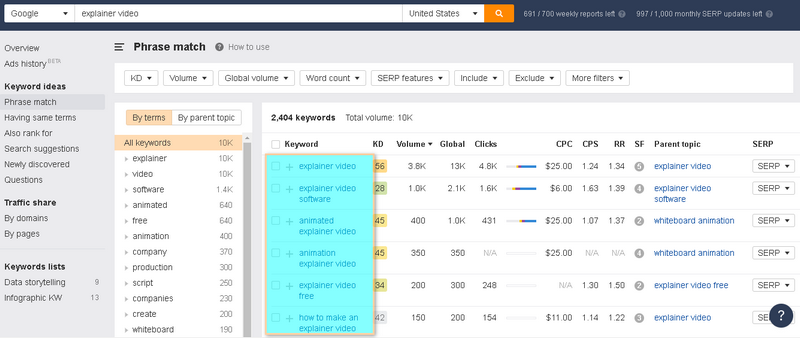 Don't forget about specifying search intent
Keep in mind that Google provides users with the results that best fit their search intent. Google tries to provide results that solve the searcher's issues. If your content solves your target audience's issues, Google will reward you with a high ranking.
To create content that satisfies search intent, you these three simple rules:
Think about choosing the content type correctly.
Don't reinvent the wheel. Check out the top positions of your request on Google. Pay attention to what type of content Google puts on top. This is will be the type of content you should produce.
Let's say, your seed keyword is used in the interrogative queries like "what is semantic SEO." Google suggests the following type of content per your query like "blog post."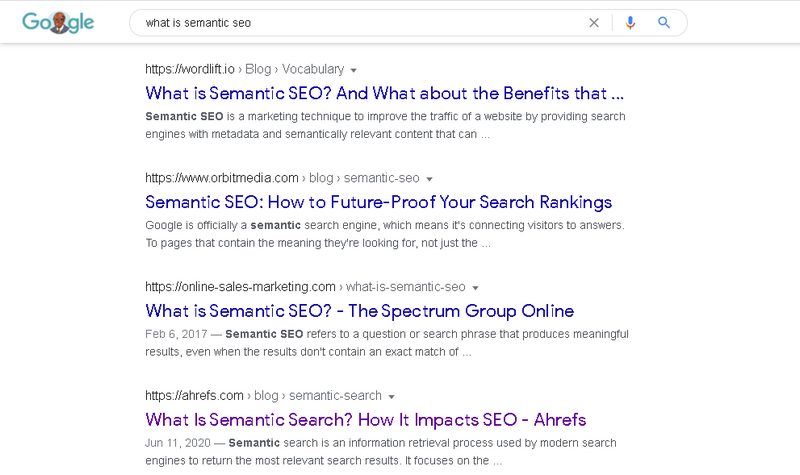 But if your primary keywords don't bring any informative intent, your content will rank for video or in the form of a product page.
Content formats include listicles, how-to guides, expert roundups, etc. It all depends on the objectives your content has.
Explore the content angle.
The content angle entails the message you're willing to send to your target audience. The content angle differs from the other two previous elements listed. Let's analyze this post you're reading right now.
1) Content type –> blog post
2) Content form –> guide
3) Content angle –> SEO writing tips for the noobs
Once you have an understanding of these three rules, you can move further.
Work on identifying subtopics
To create content that's readable and piques the interest of your target audience, try to cover the topic in detail. However, some topics can't be covered with a single post. Even if you try, you can't write a comprehensive, really good blog post. Such a post will include different subtopics that can be covered separately.
To figure out niche-related subtopics, analyze long-form guides by your competitors. Review the headings of the post. For instance, this guide on SEO suggests many subtopics that you can use as separate posts.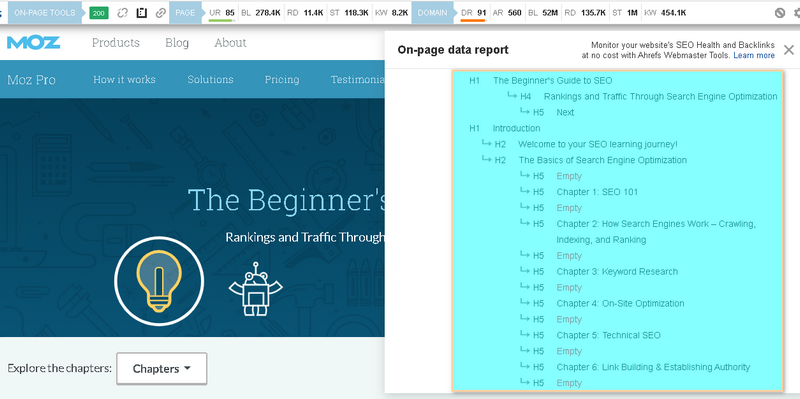 Explore the "People also ask" box
If you need personal recommendations on topic ideas from Google, review the "People also ask" box. All these recommendations are based on your seed keyword.
Analyze your competitors' keywords
To outrank your competitors, rank for major niche-related keywords. Plus, rank for keywords your competitors rank for, and rank for other keywords related to your business, which your competitors have not conquered.
You might think "How can I find all these keywords?" The task can be easier with Ahref's Content Gap tool. Paste your competitors' URLs into the tool. The rest will be done automatically.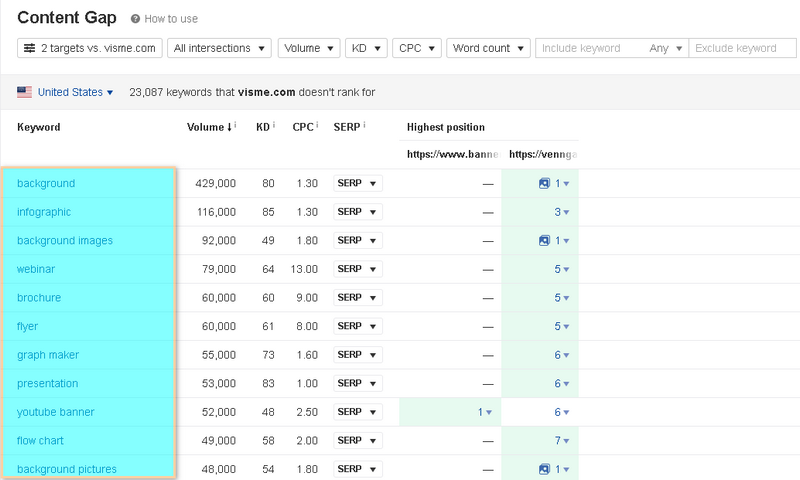 Skim through the keywords and note the ones used by your competitors. Focus on these keywords first and optimize your content accordingly.
These three steps can guide you through the process of writing content with SEO in mind.
You were promised a couple of SEO writing tips. So, review them:
5 Useful SEO Writing Tips
These five SEO writing tips will help you improve both your search engine rankings and your overall content marketing strategy
1) Optimize a title
A title tag is the first thing that people see in the SERP. Plus, a well-optimized title tag encourages people to click the link.
A well-optimized title tag includes your target keyword and takes into account search intent behind the blog post. It's especially important is to make the title tag unique. It should differ from the title tags of your competitors.
2) Keep URL as short as possible
URLs always must be short, easily readable, and include your target keyword.
3) Optimize for featured snippets
If Google shows your content as a featured snippet, congrats, you've hit the jackpot. Being shown in a featured snippet allows you to rank #1 on Google. Everyone who searches the information will stumble upon your post that covers it. Therefore, you must create content that would be adjusted to the featured snippet's technical requirements.
If you want to optimize your product page in that way, use schema plugins for WordPress. They will help improve CTRs and website rankings.
4) Don't forget to add images
Nobody likes to read content that's bland text with some bare facts. Adding images makes the process of reading more engaging. It allows you to be on your readers' mind and catch them with your content. Just imagine if this post you're reading right now were without images. I am sure you wouldn't read it this far.
5) Build internal links
Adding internal links helps improve user experience. These links build bridges from your blog to other website pages, allowing your target audience to navigate from one topic to another.
Bottom Line: If you thought that SEO writing consists only of using target keywords, improving rankings, and boosting traffic–you're mistaken in some way. These screws are just a part of the entire mechanism called SEO writing. Its main purpose is to create content that's useful for your target audience. Although competent SEO writing attracts more website traffic, the best writers craft content for people, not for robots, while keeping SEO in mind.
Sergey Aliokhin is a community outreach manager at Visme. When not at work, he likes to spend his time with family, read books on science-fiction, practice playing the bass, and visit the gym.