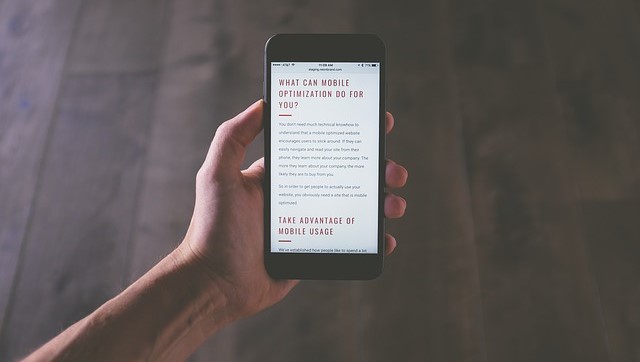 Mobile traffic today is equally important as desktop traffic. In 2018, 58% of site visits were from mobile devices, according to research from SimilarWeb. This number is estimated to rise drastically in the coming years. 
The surge of mobile devices is logical considering that now they support most of the online platforms more comfortably. It's more convenient to use mobile devices to peruse social media, watch videos, play games and so on. That's why digital marketers now pay more attention to mobile marketing.
Because of this shift towards mobile devices, web developers need to pay careful attention to optimizing website content for mobile users. Here are five easy and useful ways to achieve website optimization for mobile.
1.
Use Light Visuals
Heavy visuals are one of the most common elements that increase the time it takes to display web pages. Keep in mind that users are impatient. They have only so much time on their hands before they run out of patience and leave your website. Although internet speed is increasing, you can't just trust your customer's connection. 
 In order to decrease the loading time for pages on your website, compress images as much as you can. It's a tough task since you also have to ensure the visuals remain high-quality. A good tip in is to crop images into patterns with a similar shape. This reduces a large portion of the image size, while retaining decent quality. 
2.
Upload Short Videos
Videos on your website need to be short for the same reason. They increase the loading time and reduce the working speed of the website as a whole. Besides, people typically fast-forward through longer videos. Remember that they are impatient.
Naturally, shortening your videos means removing some of their content. Most videos can be shortened quite a bit while still preserving the key messages and delivering information coherently.
In general, you should not upload a whole video on your website unless you absolutely have to. It's much better to put a YouTube link on your site instead. If you can use a link instead of a video, you don't have to bother about the video length all that much.
3.
Make Your Text Readable
Text content also affects how mobile-friendly the website is. Text with the same length looks different on mobile and desktop. Therefore, before publishing anything on your website, preview the mobile version first. Fonts, word count, paragraph length and many more factors can turn the text into a visual mess on mobile platforms.
If you have large volume of text on your webpage, break it down into small paragraphs. Shorter paragraphs are much easier to read and comprehend. Remember that most of your audience will just skim through the text, without reading every detail. So, use a lot of bold headings and subheadings to keep the paragraphs organized and the text easy to understand. This way, the reader can glance at the text and grasp its meaning.
4.
    Design an Intuitive Interface for Mobile Devices
The sections of a webpage need to be put together in a logical order. This means that the most important ones should be at the beginning of the page. The logical order enhances the user experience, thus improving the amount of traffic coming to your website.
The main difference between desktop and mobile website interfaces is that the desktop interface is horizontal and mobile is vertical. Therefore, you may need to design two very different interfaces for the two platforms. 
Usually, it's more convenient for mobile users to scroll down the page rather than click on multiple pages. Besides creating an additional hassle, multiple pages increase the load time of the website. 
5.
    Create Buttons that Work on Both Platforms 
Today, mobile phone customers demand bigger screens that are practical for gaming, watching movies, reading on social media and whatnot. However, some websites still fail to make buttons that work for both desktop and mobile platforms. 
Even though screens of mobile devices keep getting bigger, the problem of small buttons remains prevalent. Sometimes buttons can work fine on the desktop version of the website, but fail to operate on the mobile version. Thus, website developers must test every button on the website to ensure they work for both platforms. 
Bottom Line: With the rise of mobile traffic, mobile optimization becomes more important each year. It's predicted that mobile will dominate internet traffic in the near future. Optimize your website now to keep visitors engaged and prevent additional hassles.
Azat Eloyan is a digital marketer and mobile marketing enthusiast. He currently works as a marketing specialist at SendSMS.Global, which provides SMS marketing solutions globally.