Let's start with some stats:
As of April 2020, almost 4.57 billion people are active internet users
Online shopping now represents 14% of the global retail industry.
43% of global shoppers research products online via social networks.
The shopping journey of 63% of customers starts online.
These stats alone should make you wonder if people search for your brand online and what type of results they see.
The internet has given a new voice to consumers all over the world. Previously, if someone faced bad customer service or a delayed delivery, the only option they had was to complain to the business's official helpline or support channel. But often these support channels put the blame on the customer or gave them a cold shoulder.  Contacting the Federal Trade Commission (FTC) was sending your complaint into a black hole.
Customers have more control now. With platforms like Yelp, Trip Advisor, Google My Business and Facebook, anyone can publish public reviews about businesses. For businesses that care about their customers and respond appropriately, this could mean an opportunity for more sales, but for businesses that don't care about customers, this could have a severe negative impact.
For example, if you search "a j perri reviews" in Google, you can see that out of 10 results, six are negative or not in favor of the air conditioning installation and servicing company. After seeing these results, there's a low chance that someone will use its services.
As there are good and bad businesses, there are also good and bad customers. Some people often use these platforms as a bargaining chip with businesses or even blackmail them to get free products or service.
Moreover, some competitors try to ruin reputations by publishing false stories.  The fake reviews often appear in Google search results, and become a serious issue.
This is a critical issue for renowned personalities and businesses in the restaurant or hotel industries. A single bad review or negative result about you or your business means loss of credibility.
The Solution: Online Reputation Management.
Online Reputation Management, or ORM, is the process of eliminating or countering negative content about your business. The goal is that someone searching your brand name in Google will see only favorable comments about your business. Similarly, any negative reviews on a third-party platform like Yelp will be removed pushed down in the results by more positive reviews to increase the overall rating.
A brand with a good online reputation is more likely to earn new business than one with a bad online reputation and many negative comments.
ORM is a three-step process.
Identify negative results
Remove negative results
Add controllable results
ORM starts with identifying problematic results anywhere on the internet.
You could search your brand name in search engines like Google and Bing as well as social platforms like Facebook and online review boards like Yelp. Most businesses find the process is far too labor-intensive and time-consuming to complete manually and instead use a media monitoring service. Usually consumers use the following combinations to search for a brand reputation:
brand name
website
brand name + rating
brand name + review
brand name complaints
brand name scam
It's a worthwhile exercise to see if you can find any negative results about your company and brand names for these queries.
A negative result can be a low rating review, bad news about your business, an old blog post that can negatively impact your brand, etc. Check the first two pages of search engine results.
Similarly, check your business profiles on well-known platforms like Facebook or Yelp see if there are any negative reviews.
Once you identify the negative results, follow this three-fold strategy:
Engage with customer/publisher to remove the negative review
Bury the negative results to the third page of Google
Create and rank favorable results
How SEO Can Help Manage Online Reputations
Search engine optimization (SEO) can be a persuasive and durable weapon for online reputation management because it can help bury negative results and create favorable results.
Well-done online reputation management can help control results on the first pages of search engine results.
Say when someone searches "your brand name + review" in Google, the top 10 results will ideally be web properties you control. These can be an official website, social media profiles, company blogs, press releases, etc.
With SEO, you can push these favorable and controllable results into the top 10 results in search engine results pages (SERPs).
You can run link-building campaigns, improve on-page SEO, and add content to improve their rankings.
Treat each favorable property/link as a standalone SEO project.
The biggest advantage is that owned websites have a better chance of ranking due to low competition. Therefore, they require little SEO effort.
DYI SEO Tips for Online Reputation Management
These six do-it-yourself tips will help you maintain and improve your online reputation. .
1 – Identify: Search for information about your brand on the internet. Search your company name on Google and different social network platforms. Note the negative results and positive results. Seek to push negative results down by ranking positive results.
2 – Create favorable & controllable web properties:  Create as many favorable properties for your brand as you can. This includes business profiles on social networks, blogs on free blog platforms like wordpress.com, etc.
Register your organization on all available sites with your brand name as "username." These profiles usually start to rank on branded queries pretty quickly. So with a little SEO, it's pretty easy to rank them on the targeted keywords.
3 – Monitor: You need to know when someone publishes anything related to your brand name on the internet. Google Alerts sends you a notification when a web page mentions your brand name. Although free, Google Alerts is unreliable and not comprehensive. A paid media monitoring and measurement service monitors both news and social media. It also provides advanced analytics.
Pro Tip: Use media monitoring to track negative mentions. This will help you keep an eye on rankings. If they start to rank in the top 10 for any terms, you can immediately start work to push them down.
4 – Use Content Marketing: Content marketing is a tried and tested method for online marketers to rank on page one search results. You can use it for ORM by publishing "branded content." Branded content is a hybrid of a press release and informative content. You provide highly informative and engaging content that mentions your company as an example or case study. This content will rank for your branded terms and increase favorable results in SERPs.
5 – Claim Your Business Listing: Many social networks post profiles of businesses without input from the business. If a social network already has your business profile, claim it and update it with relevant information. Add descriptions, images, FAQS, and contact information to ensure that the content is correct and updated. This also helps the profiles rank on branded search results, giving you more control over SERPs.
6 – Engage with Dissatisfied Customers: The best part about social media is that it gives businesses an equal chance to respond to customer reviews or complaints. If you see a negative review or complaint, try to communicate with the customer and resolve the issue. Responding to a negative review shows that the business is concerned about customer satisfaction. This makes a good impression on people researching your brand.
Building and managing brand reputation is not an easy task. It takes time and planning, but it enables a brand to establish a more direct and controlled information flow.
By continuously monitoring what is being said about your brand name online, it's possible to understand and change your online reputation. Good SEO and reputation management isn't just about collecting and analyzing information. It's also about interacting by joining conversations, whether they're positive or negative.
In short, to have a good online reputation it's essential to monitor your brand, create controllable web properties, and generate favorable content in owned, earned and social media.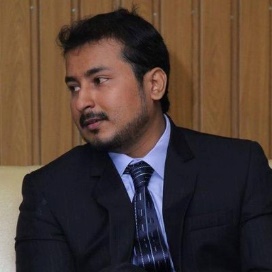 Haseeb Najam has worked in the search marketing field since 2006. His expertise includes SEO, SEM, link building, product development and critiquing local food. Currently, he is head of SEO at PNC Digital, an SEO agency in the USA.