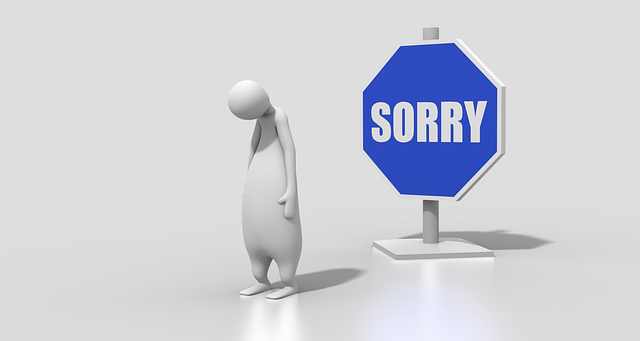 Most people have difficulty apologizing. They view an apology as an admission of guilt. They become defensive automatically when charged with a mistake, even if they know they're in the wrong. Sometimes they attack others or create diversionary tactics. None of those tactics work well.
Often, attempts at apologies come across as weak and insincere. Sometimes they're so poor in both content and delivery they magnify the original problem. A study by the Journal of Management shows that customers are more likely to continue patronizing a business that apologizes after violating trust.
Apologizing is a skill that can rebuild reputations and restore trust. To be effective, an apology must be sincere, acknowledge the mistake, and make amends. Crafting an effective, sincere apology is so difficult, scholars have created templates designed to draft the perfect apology.
Companies that Pay to Apologize
Some companies go to great lengths to publicize their apologies. Companies typically distribute apologies with press releases, announcements on websites and social media posts, but some major brands have published their apologies in full-page newspaper ads. KFC, formerly Kentucky Fried Chicken, ran humorous full-page newspaper advertisements in major British publications to apologize for its chicken shortage that closed more than 600 stores across the UK.
Facebook, Uber and Wells Fargo invested considerable sums on television apology ads. Despite their substantial costs, commentators criticized the brands for not taking full responsibility for past mistakes and only implicitly referring to those misdeeds.
Legal considerations also pose a challenge. Company lawyers sometimes argue against apologizing, believing an apology can admit fault, a suicidal legal strategy. That's why legal experts urge corporate PR teams to consider key legal questions before issuing an apology.
How to Know if the Apology was Effective
Following the apology, it's important to gauge the effectiveness of the apology as well as the company's overall crisis management strategy through social media monitoring and measurement. The right media monitoring tool can report social media comments about the company and measure how the volume of positive and negative comments about the brand, its products and chief executives change over time through automated sentiment analysis, manual reviews by trained human analysts, or a combination of both options. Social media listening can also prevent the need for business apologies in the first place by spotting negative comments that can quickly spread on social media.
Ideal features of a media monitoring vendor include timely email alerts, comprehensive and accurate reports, and an intuitive dashboard that integrates data from all media sources.
Learn More About Measurement of Crisis Management Programs. Download Our Free Guide to Media Measurement for PR & Marketing.
PR professionals and others can learn how to create excellent apologies by examining poor apologies (or what passes for an apology), such as ones from Equifax, Wells Fargo and Donald Trump.
Public relations practitioners can also look to these examples of well-crafted apologies for guidance.
PwC. PwC, also known as PricewaterhouseCoopers, deserves an Oscar award for best apology for its statement after the Academy Awards announced the wrong winner for best film, says communications expert Josh Bernoff.
PwC stated: "We sincerely apologize to "Moonlight," "La La Land," Warren Beatty, Faye Dunaway, and Oscar viewers for the error that was made during the award announcement for Best Picture. The presenters had mistakenly been given the wrong category envelope and when discovered, was immediately corrected. We are currently investigating how this could have happened, and deeply regret that this occurred.
We appreciate the grace with which the nominees, the Academy, ABC, and Jimmy Kimmel handled the situation."
PwC's statement is short, acknowledges who was hurt, explains what happened, and explains what will happen next.  In one shortcoming, it uses the passive voice: "The presenters had mistakenly been given the wrong category envelope." Better stated: "PwC mistakenly handed the presenters the wrong envelope."
"Regardless of the visibility or significance of the error, take responsibility, apologize to the people you hurt, explain what happened, explain how you will fix it, and then get off the damn stage," Bernoff advises.
Coca-Cola. Media reports accused Coca-Cola of financing biased obesity research that attempted to disprove the link between obesity and diet and shift the problem to lack of exercise. Coca-Cola CEO Muhtar Kent responded in a Wall Street Journal op-ed.
He admitted the company's error, explained its intentions, outlined plans to increase transparency in its research funding, and vowed to combat obesity by offering low-calorie and low-sugar drinks. The op-ed epitomized a corporate response that contains the essential elements of effective corporate PR crisis management.
"I am disappointed that some actions we have taken to fund scientific research and health and well-being programs have served only to create more confusion and mistrust," he stated.
The op-ed stresses the company's commitment to fighting obesity. "We want to get focused on real change, and we have a great opportunity ahead of us," he says. "We are determined to get this right."
HubSpot recounts six examples of brands that apologized brilliantly. Although some of them may lack all the ingredients of a complete apology, they provide examples of how to publically respond to a PR crisis. Here are a few of them.
Netflix. Netflix received a great deal of static as it transitioned from DVD delivery to a streaming service. It first tried a system in which its streaming and DVD delivery services would become different entities with separate billing agreements. But the split meant a 60% price increase for current members who wanted both, explains HubSpot senior staff writer Amanda Zantal-Wiener. Worse, the company didn't provide a clear explanation.
In company a blog post, Netflix CEO Reed Hastings explained why the company instituted the changes. "I messed up. I owe everyone an explanation," Hastings began. "It is clear from the feedback over the past two months that many members felt we lacked respect and humility in the way we announced the separation of DVD and streaming, and the price changes." The company had failed to adequately communicate with customers, but it would keep the separate billing system, he said.
Three weeks later, Hastings issued yet another apology, admitting that two billing systems was a mistake.
Apple. Singer Taylor Swift announced a boycott of Apple Music when the service offered a one-month free trial of its streaming feature – without paying artists during the trial period. In a post on her Tumblr blog, Swift called the move "shocking, disappointing, and completely unlike this historically progressive and generous company."
Apple took a somewhat unconventional approach by responding on Twitter. In two tweets, Apple SVP of Internet Software and Services Eddy Cue said the company understood the grievance and said how it would respond. First he tweeted: #AppleMusic will pay artist for streaming, even during customer's free trial period.
A follow-up tweet stated: We hear you @taylorswift13 and indie artists. Love, Apple
Swift ultimately promoted the service.
ZocDoc. ZocDoc is an online service that connects patients with doctors. Occasionally doctors don't accurately update their schedules within ZocDoc. Patients then make appointments for times that aren't available, leading to subsequent inconvenient cancellations. When that happens, ZocDoc apologizes to its users, asks for details of what happened, and offers an Amazon gift card. Even though the doctor's office, not ZocDoc, caused the slipup, the online service acknowledges that it has negatively impacted its user experience, which it attempts to rectify, says Zantal-Wiener.
Bottom Line: Apologizing is an effective way to calm critics and offended and damaged parties. Crafting a public apology that appears sincere and mollifies the offended or damaged parties requires careful wording. PR pros can learn lessons on creating apologies by examining examples of carefully crafted and effective corporate apologies.
Sign up for a free demo of the Glean.info media monitoring & measurement dashboard
This post was originally published on March 22, 2017, and updated on Aug. 3, 2018.
William J. Comcowich founded and served as CEO of CyberAlert LLC, the predecessor of Glean.info. He is currently serving as Interim CEO and member of the Board of Directors. Glean.info provides customized media monitoring, media measurement and analytics solutions across all types of traditional and social media.